Keyless Entry, Electronic Deadbolts, and Biotmetric Lock Installation & Repair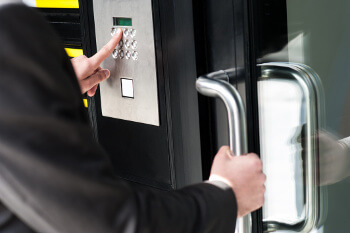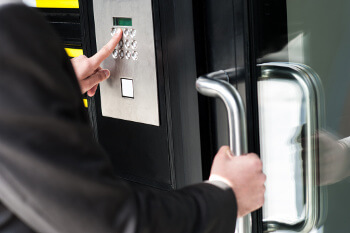 New Braunfels Locksmith Pros are the best high tech lock New Braunfels  installation and repair company serving New Braunfels, TX and surrounding areas. We are licensed, bonded, and insured and offer 24/7 locksmith service to all of our customers to ensure that we are able to provide the very best high tech lock installation and repair services. We will provide upfront pricing, along with fast and friendly service that is available all throughout the day and night. Our 24/7 locksmith service is just a phone call away no matter what time of the day or night you need our help.
We offer upfront pricing and a complete locksmith service in New Braunfels, TX. We can install and repair all types of locks for residential or commercial uses alike. Our 5+ years of experience and expert technicians will be able to repair and install all types of high tech locks. There is no type of lock that we cannot install or repair for your home or business. All types of locks, including mechanical and high tech keyless entry locks, can be serviced by us at New Braunfels Locksmith Pros.
Keypad Locks
These types of locks can be used to allow for access into rooms without requiring someone to have a key. There are many benefits to this. With this type of lock, you can directly control who can go into and out of the room at all times without having to produce additional keys that easily get lost over time. If a keypad lock malfunctions or something else goes wrong, it can result in people not being able to access the room entirely. This is why it is so important to have the right expert technicians that will be able to provide fast and friendly lock repair services for keyless entry systems.
Electronic Locks
As with many types of high tech locks, other electronic locks can have unexpected issues and malfunction for a variety of reasons. Although there are many benefits to these types of locks, one downside is that they are generally impossible for the average person to repair themselves. That's where the techs at New Braunfels Locksmith Pros come in handy.
Biometric Locks
One of the latest types of high security, high tech locks is the biometric lock. These types of locks involve the use of an optical scanner to read specific fingerprints in order to allow private access to specific people. Unless your fingerprint is recognized by the biometric lock, you or anyone else will not be allowed to gain access through the door. These types of locks do not require keys, but do need to be able to reliably identify fingerprints to function properly. If there are any problems with the optical scanner, there may be issues opening the door.
Smartphone Locks
Smartphones are owned by just about everyone these days so it should be no surprise to see that they are starting to be integrated in locks. Smartphone-controlled locks allow the user to lock and unlock their doors whenever they want via Bluetooth technology. They are able to do this wherever they are, even if they are far away. One danger with smartphone-controlled locks is what could happen if your smartphone is lost or stolen. If this occurs, it is critical to have mobile locksmiths such as ours that will be able to secure your doors right away. There is no way to ensure your phone will remain 100% safe, but there is a way to ensure you will never put your home or office in jeopardy with our fast, 30 min response time.
New Braunfels Locksmith Pros is the best choice for all of your high tech lock installation and repair needs in the New Braunfels, TX area. No matter what type of high tech lock installation or repair you need, you can trust our upfront pricing and expertly trained technicians to provide you with the most complete locksmith service in the area. Call us now to have your locks installed or repaired the right way!
High Tech Locks New Braunfels Installation & Repair
Click to Call From a Mobile Phone – (830) 282-6966