We Install, Repair, and Rekey Mortise Locks
Available 'Round the Clock – (830) 282-6966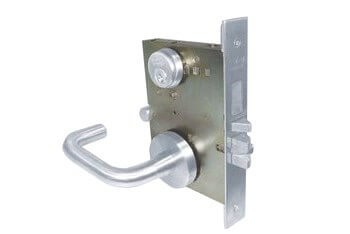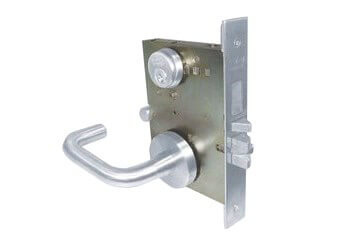 New Braunfels Locksmith Pros will install and repair mortise locks quickly and efficiently in both residential and commercial settings. As a full service locksmith in New Braunfels, TX and surrounding areas, our company appreciates the importance of maintaining effective security. Our licensed, bonded, and insured technicians possess the skills and training required to repair, replace, install, and rekey many different types of locks. We offer a complete locksmith service you can count on.
During our 5+ years experience, we have developed several policies that greatly assist our customers. We endeavor to respond to service requests promptly, providing a 30 minute response when homeowners and businesses contact us seeking solutions to a variety of issues involving lock and key related problems. Additionally, we expect our personnel to complete every assignment in a professional, fast and friendly manner. We also offer upfront pricing, so you will always know in advance the complete price for all the work we undertake on your behalf. And for your convenience, we provide a 24-hour locksmith service in New Braunfels. You can call upon us to help provide locksmithing services if emergencies occur at any hour of the day or night.
Better Security For Homes
Mortise locks provide excellent security for homes because the lock remains concealed beneath a protective metal casing. This lock is fully embedded within a mortise groove inside the door and does not permit ready access to the locking mechanism itself. Intruders experience greater challenges breaking open this type of extremely strong lock. These locks enjoyed popularity during the 19th century and in recent years, renewed demand has developed for them, even though they involve complex installation techniques. The services of expert technicians, such as those at New Braunfels Locksmith Pros, are required to install these locks correctly.
We offer a wide variety of very attractive mortise lock styles to match the decor of your residence. You can select finishes in many metals, including nickel, chrome, or brass for instance. We also offer many different styles: modern, contemporary, traditional, rustic, and more! You will love the appearance of this excellent high quality lock in your home.
Where do homeowners choose to have these secure mortise locks installed? Sites where customers sometimes request installation include:
Main Entrances;
Other Exterior Doors;
Solid Core Interior Doors;
Doors Requiring Especially Strong Lock Security.
Enhancing Businesses Security With Mortise Locks
New Braunfels Locksmith Pros will also install and repair mortise locks for institutions and businesses interested in enhancing their security. The locks we offer match most existing decors seamlessly. You can select a modern or traditional style. Standard finishes include:
Nickel
Chrome
Brass
Aluminum
Steel
Pewter
Often, businesses that have encountered problems with damaged or picked locks find that switching to a durable mortise lock enhances security. We can remove a less secure lock and install a mortise lock when customers request this upgrade.
We'll help you locate a lock style and finish to fit your design preferences. Our mobile locksmiths can complete this type of installation on a schedule that proves most convenient for your business and your customers.
Call Us Today!
Residents of New Braunfels, TX and surrounding communities appreciate the services that New Braunfels Locksmith Pros provides. As a complete locksmith service with 5+ years of experience, our company strives to offer excellent customer service whenever our mobile locksmiths answer a service call. Mortise lock installation involves considerable complexity and our well trained locksmiths possess the required expertise in this field. We will complete a lock installation, repair, or rekey for you efficiently and accurately.
When you request our assistance, you can expect that our licensed, bonded, and insured, 24/7 locksmith service will dispatch expert technicians to address your concerns. We endeavor to respond to every call with a rapid 30 minute response. We'll furnish up front pricing and complete our work with professionalism exceeding your standards. You'll be pleased that you called upon us! To order this service, feel free to call us or go to our online locksmith service request form.
Click to Call From a Mobile Phone – (830) 282-6966