Enhance your business security with Panic Bars at affordable prices in New Braunfels, TX!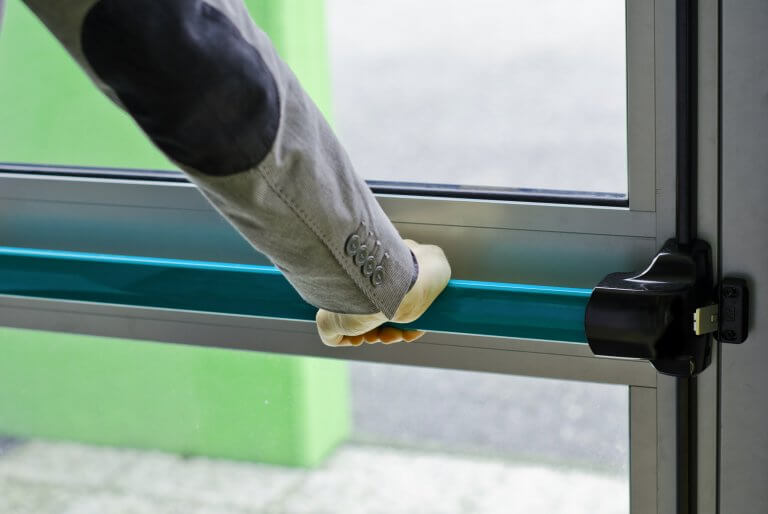 At New Braunfels Locksmith Pros, we repair & install panic bars for fire and emergency events offering a fast exit with a simple push. Panic bars are also known as Push Bars,Crash Bars and Panic Locks, and play a key role in emergency regulations without sacrificing security.
These are speciality door opening devices that have deadlatches allowing patrons to exit quickly while the doors remain closed from the outside by pushing the bar in a quick notice.
Not only meant for safety but they also enhance the property's security level that is designed with simple access from exit doors. They are ready for use during business hours and are back to their original position when the building is closed. We have a wide range of sizes and styles of push bars to choose from so they match with business needs for vertical or horizontal bar design
Why should you install Panic Bars?
As a business owner, you want to provide the best user experience keeping in mind that they are all time safe along with your business. Therefore, commercial properties such as factories, schools, hospitals, shopping centres, restaurants, airports,etc must have exit devices installed on their emergency exit doors for the number of reasons such as :
● During emergencies, these devices save lives and give ultimate security
● These help in alerting other patrons about the emergency with the help of fire alarms or emergency alarms
● Panic bars ensure normal entry or exit ways without affecting the normal business operation
● Such devices are universally needed by building codes ensuring full protection in the premises.
● Since these bars need a certain amount of push, it is understandable for patrons that these are specifically for emergency exits.
● Businesses can save a lot of money as these are available with cost effective installation that fits the business requirement and can also reduce the insurance prices
● Employees, in case of emergency, are able to access the door from inside at all times without the need of physical keys or a special knowledge
● Contains an integrated alarm system that prevents any criminal activity , thefts or unauthorised use.
Our team of experts at New Braunfels Locksmith Pros can ensure enough safety. Our 24-hour locksmiths will repair panic bars in the event that they malfunction and install new panic hardware ensuring full protection and up to the building code. In case of emergency situations – panic bars, smoke alarms, safe windows, fire extinguishers & other high security systems have the ability to safeguard all patrons inside the premises and resolve all kinds of security issues.
Why rely on us ?
We know that your property holds the most valuable possession to you, so you should just not trust any locksmith for assistance. Before choosing one,have a surety about their credentials, reputation, and past experiences.
We are happy to that our clients can rely on us anytime for
● 30 minutes response time
● Upfront & competitive pricing
● Technicians with 5+ years experience
● High-quality installations and repairing
● 24/7 availability
● Licensed, bonded, and insured team of experts
We offer a variety of Panic Bars or Push Bars along with installation and maintenance services for your commercial properties..Even during inclement weather , our mobile locksmiths will be there to assist you at your location with the best equipment, latest tools and current programmers to resolve the issue. So, anytime you want to install these door opening security devices or wish to know about other services in a matter of minutes, simply contact us at- (830) 282-6966