Integrate contactless attendance for a safer home or office with – New Braunfels Locksmith Pros !!
Biometric Access Control Services in New Braunfels, TX: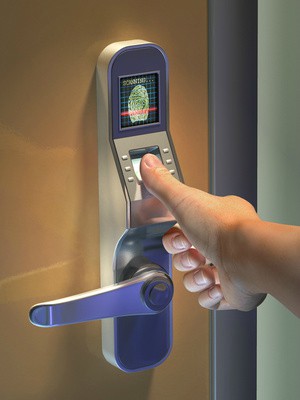 Looking for a smart and customized biometric lock at your residential and commercial property? Where you can easily have a damaged or lost key or if it is misused by an intruder, your fingerprint is something that remains unique forever. This piece of technology is stronger and has a contact less authentication method than physical keys, key cards, and PINs to keep the entry/exit access limited to authorized patrons. It completely depends on the property owner whether they want to provide door access to single or multiple visitors.
Wherever you are in the local area, you can surely rely on us for our automotive, commercial, residential, and 24/7 emergency locksmith services.
Are biometric locks safer than the old lock systems ?
Indeed! No more digging, searching and messing with old physical keys.
These provide home or business owners a modern form of keyless entries by swiping out the need of carrying a set of physical keys. Thanks to the high-tech advancements and recent security trends at New Braunfels Locksmith Pros , where the modern security solutions are more biometric lock-driven for full protection that is fairly installed
Here, we provide expert biometric access control services for accessible entries to various doors through fingerprint, retinal, or face recognition technologies. This virtually allows you to keep your employees, staff, or workers safe by providing touchless communal surfaces and automatically identifies the visitor once he/she walks up to the iPad.
How are these useful for your workplace?
Such locks sort out payroll issues hampering the overall productivity of workers or affect their credibility as a business entity. Proxies/Swipings are common problems which organisations have to deal with on a daily basis. Since the fingerprints are unique and nearly impossible to be stolen , no proxies or buddy punching shall be made by anyone to mark the entry on behalf of the other employee. Out of the different biometric systems, the commonly used locks by businesses are biometric fingerprint locks as they are more easily introduced to the commercial area including storages, warehouse area, etc. With the help of our trained professionals you can tie additional security anywhere and anytime , we will be happy to assist!
Why rely on us?
New Braunfels Locksmith Pros is one of the industry leading brands with high quality and advanced biometric locks to provide you full assessment and consultation based on your requirement and budget. We know that your property holds the most valuable possession to you, so you should just not trust any locksmith for assistance. Before choosing one,have a surety about their credentials, reputation, and past experiences.
We are happy to that our clients can rely on us anytime for :
● 30 minutes response time
● Upfront & competitive pricing
● Technicians with 5+ years experience
● High-quality installations and repairing
● 24/7 availability
● Licensed, bonded, and insured team of experts
We offer the best biometric locks to help you achieve a safer lifestyle than ever before .Even during inclement weather , our mobile locksmiths will be there to assist you at your location with the best equipment, latest tools and current programmers to resolve the issue. If you have any concerns or questions about biometric locks and how they can be installed at your property, just simply contact us on (830) 282-6966 .
Instead of wasting your valuable time on research and getting it all installed on your own, let us do the hard work for you.
Now say goodbye to security risks and request a service today !