Get High Security, Grade 1 Locks Installed and Repaired in New Braunfel,TX and local area :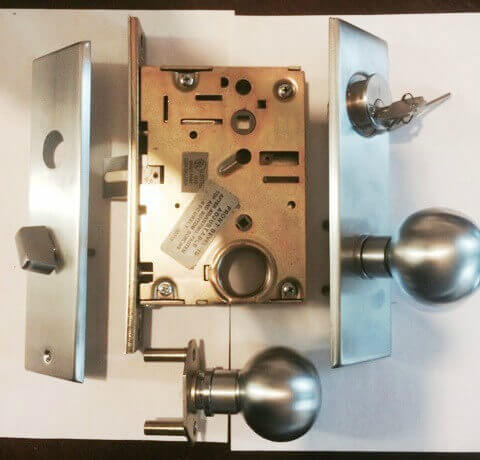 When it comes to securing your workplace with high security locks, New Braunfels Locksmith Pros tops the list of fast and reliable locksmith services in your local area for day and night.
High security locks are high quality and reliable deadbolts one can have.These have keys that are difficult to copy and designed to prevent assailants from breaking in. These locks also have a Grade 1 i.e the highest rating which are made of durable materials like steel. Traditionally designed with a number of real and theoretical key alterations to resist manipulation from lock picking and decoding attacks.
Such locks have hardened steel inserts offering a greater resistance to any drilling or any kind of forcible entry. From CCTV to high security grade 1 locks to other high end lock services , we take care of every aspect of the safety of your commercial building.
High Security Locks For Your Business :
While your business is the livelihood, the security of your assets, human resources and property is of utmost importance. Why not secure these in the best possible way?
The external doors to your commercial properties are very much vulnerable and exposed to potential intruders and burglars.As your local commercial locksmiths, we hear alot about these types of unfortunate incidents. To avoid such occurings , these systems withstand the pressure and help businesses operate safely on a daily basis. High security grade 1 locks are the type of special locks that are highly durable, efficient and stronger than other locking systems in the market.
If your lock mechanisms are not working properly, drop us a call. Not only do we install these high security locks, but also repair them additionally. It is recommended to get the high security locks installed for your business to avoid any risk that may potentially harm your workplace with a weak lock system.
Different types of lock grades :
There are three kinds of lock grades available that are :
1. Grade 1 – Heavy duty commercial security lock
2. Grade 2 – High residential security or low commercial grade lock
3. Grade 3 – Basic residential security lock
However, if you are looking for high traffic and advanced security, High security Grade 1 Lock is the strongest grade that is predominantly found in commercial and industrial applications
Are you worried that upgrading your security can cost you a lot of money?
At New Braunfels we assure you the upfront and competitive pricing so you'll never face any hidden charges. Schedule today our high security grade 1 lock installation services at your convenience as per the requirement. We ensure the highest commercial security options that fit your pocket and give you the feeling of being protected all the time.
Get in touch with us to get a free quote on hardware and installation !
Why rely on us?
We know that your property holds the most valuable possession to you, so you should just not trust any locksmith for assistance. Before choosing one,have a surety about their credentials, reputation, and past experiences. We are happy to that our clients can rely on us anytime for
● 30 minutes response time
● Upfront & competitive pricing
● Technicians with 5+ years experience
● High-quality installations and repairing
● 24/7 availability
● Licensed, bonded, and insured team of experts
Don't wait till you experience a break-in or burglary as it will be too late to call for security. Simply contact us at (830) 282-6966 to speak to our expert technicians who can also help you maintain your security equipment after the locks are installed.
Request a service today and be safer than ever!