Don't Worry About Lost or Stolen Keys, Get top quality Keyless Entry Lock Solutions at affordable rates !!
Are you tired of carrying old traditional keys all the time or have lost them?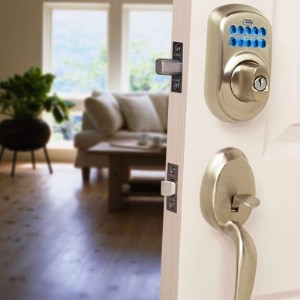 We understand that no one would like to live at a place that is not secured with doors and locks.It is very important that you are aware of the modern lock solutions that make you feel safest with your dear ones and belongings. allow you to focus on top quality security for your home and business.
At New Braunfels Locksmith Pros, our experts will guide you which door locks are suitable as per the requirement and that do not break easily. They can come to your location within a 30 minutes response time to assist you in maintaining and upgrading your locks, fixing snapped locks, replacement and repair of existing locks and much more.
Locks are a primary element of your residential or commercial property. Conventional locking systems involved a lock cylinder and physical key but now with keyless entry systems there is no more a need to carry the copies of those keys. Do get in touch with us for installation and repair services for your residential or commercial properties.
Our emergency, residential and commercial locksmith services :
In case of emergencies like lost keys or break off inside the lock, we offer 24/7 mobile locksmith solutions to give you all that is needed in a matter of minutes. Our emergency locksmith will help you to get an installed keyless entry lock system in the fastest way possible so that you do not need to wait until the next working day.
Our residential locksmith will properly assess your home property and guide you a practical solution to the problem efficiently. And the commercial locksmith will walk through your commercial property to suggest the best business security system as per the business needs. However, we provide all kinds of residential, commercial, and automotive locksmith services at your doorstep in New Braunfels, TX and the surrounding area.
Why are Keyless entry systems important ?
Not everyone is aware of the new locking system available for the advanced security known as keyless entry systems unlike the standard locks and keys. These include:
● Key Fobs
● KeyCards
● Other bluetooth locks
These systems are suitable for businesses requiring high levels of security in their premises to limit the access and provide touchless solutions.
As an additional advantage, these add the protection from the spread of viruses (like COVID-19) by wiping out the physical contact between customers, employees and owners on the door handles.
When this piece of technology is installed in business premises, every worker or employee is given a personal code, fob or a card that has been programmed for the particular individual. This also restricts the certain times of the day in case any person is trying to enter the door after business hours ensuring peace of mind for business owners.
Why rely on us?
We know that your property holds the most valuable possession to you, so you should just not trust any locksmith for assistance. Before choosing one,have a surety about their credentials, reputation, and past experiences. We are happy to that our clients can rely on us anytime for
● 30 minutes response time
● Upfront & competitive pricing
● Technicians with 5+ years experience
● High-quality installations and repairing
● 24/7 availability
● Licensed, bonded, and insured team of experts
We provide a wide range of keyless entry solutions along with maintenance and repair services. Just give a call on – (830) 282-6966 and request a service today to upgrade your business security technology !