Licensed & Professional Programming of Car Transponder Keys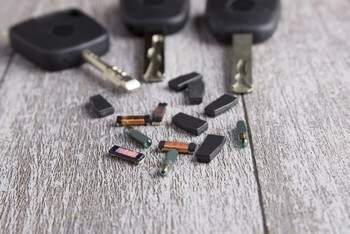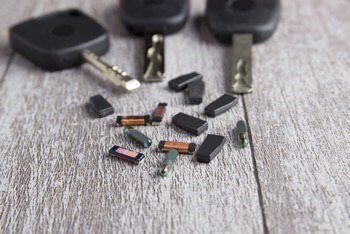 New Braunfels Locksmith Pros offers a complete locksmith service, including transponder key programming and servicing proximity keys. We provide a 24×7 auto locksmith service in New Braunfels, TX and surrounding areas.
When you encounter a lock or key related problem that requires the services of expert technicians with 5+ years' experience, depend on us to provide a full range of solutions. We furnish comprehensive automotive locksmith services. Our mobile locksmiths will respond rapidly to your request for service. Furthermore, our 30 min response time means that you won't have to wait for long periods of time before we return your initial call.
Additionally, our company is licensed, bonded, and insured. We maintain a policy of up front pricing, so you will never receive an unpleasant surprise when you retain us to perform locksmithing services for you. Our fast and friendly, professional response will help resolve any problems with your automotive, residential, or commercial locks.
Transponder Key Programming Services
Today, transponder key programming and proximity keys represent a rapidly expanding segment of the automotive market. Both businesses and individuals frequently utilize vehicles equipped with these high tech features. If you encounter a lock or key problem relating to this field, as a full service automotive locksmith, we can help you! We also provide car key replacement for both foreign and domestic models of vehicles.
Transponder key programming differs from proximity key repair in some significant ways. Just consider these interesting facts:
A transponder key permits an owner to unlock a vehicle remotely;
Many high tech modern vehicle locks use transponders to help the vehicle recognize only designated owners in possession of handheld devices that communicate with the door locking system;
The handheld control communicates with the transponder by sending a radio signal to a receiver in the vehicle;
This feature helps protect vehicles against unauthorized access;
Transponders can permit a fleet to track the location of its vehicles during business operations;
Transponders help safeguard vehicles from break-ins, thefts, and unauthorized use.
The task of programming a transponder can prove difficult for many vehicle owners. If you have obtained a recent car key replacement, we can assist you in making certain that your door will lock and unlock remotely. We also work on malfunctioning car trunk locks.
Today, an increasing number of both foreign and domestic vehicles use a proximity key system. Although a proximity key also depends upon the transmission of a signal from the owner's handheld device to the vehicle, the process involved in this keyless entry system is somewhat different because the owner must hold a fob containing the proximity key close to the impacted lock in order for the key to work. Essentially, the owner touches a button on the handle of the car in the presence of the proximity key to unlock and lock the door. Similarly, driving the car involves pressing an ignition button in the presence of the proximity key fob. We can help you obtain service for this type of product, should the need arise for locksmithing assistance for a malfunctioning proximity key fob, or for battery replacement.
Why People Rely on Us!
Drivers in New Braunfels, TX and surrounding areas call upon New Braunfels Locksmith Pros when they require a local New Braunfels locksmith service. We service automotive, commercial, and residential locks, and we can perform transponder key programming for car owners. Our rapid, 30 min response to requests for service means you can rely on our 24/7 locksmith service to respond quickly and professionally when you place a service call.
Our well trained expert technicians perform program transponder keys rapidly and accurately in a fast and friendly manner. We are licensed, bonded, and insured, mobile locksmiths with 5+ years of experience. We know the New Braunfels area well. Let our upfront pricing policies and excellent customer service bring you greater peace of mind the next time you require locksmithing services. Call us today!
Click to Call From a Mobile Phone – (830) 282-6966